"A geeky version of Gumtree": science specimen sharing site taking off
Many brilliant ideas are so simple that it's a wonder no one thought of them before.
Otlet, a website created by IMAS PhD student Madi Green and her friend Lauren Meyer from Flinders University, fits perfectly into that category.
The Otlet database allows researchers to share the non-human biological samples they've collected during their research with other scientists around the world
Ms Green said an estimated 94 million biological samples are collected from animals and plants by researchers each year - often at considerable expense and effort - and they're usually either thrown out at the end of a project or left in a freezer or cupboard, forgotten and taking up space.
Sharing them on Otlet can now save other scientists the time and the cost of collecting their own samples while also reducing waste and the impact on animals and plants.
As with so many bright ideas, Madi and Lauren thought of it by chance while discussing a shared problem – in their case, how to source tissue samples for their research interest in sharks.
"We came up with the idea when we were at a conference," Ms Green said. "Lauren had finished her Honours and almost failed because she hadn't been able to collect enough shark samples for her research.
(Photos: Otlet co-founders Madi Green, left, and Lauren Meyer, below right)
"At the conference she ran into someone who said "I have all these shark tissue samples lying round and I don't know what to do with them".
"These were exactly the samples Lauren had needed!
"After she said a few swear words we talked about it and realised that institutions and researchers tend not to communicate much about what samples they have and what is available."
They initially created Otlet so shark and ray scientists could share their samples.
But in response to growing interest from other scientists they've now extended the database to cover all non-human biological samples – anything from a tiny clipping from a shark's fin to an entire animal or plant.
Otlet now includes almost 11 000 samples and 300 scientists from 45 countries worldwide.
"We say that it works a bit like a geeky version of Gumtree, except that there's no cost to the researchers.
"Scientists can go on Otlet and list samples they have that are spare, or which they might want to collaborate with other people on.
"A researcher looking for that sample can make a request, the owner gets an email and the conversation between them about sharing and shipping the sample can begin from there.
"We don't hold the samples or store them, we just help to make the connection."
Otlet has so far been free to scientists thanks to funding from a NSW Government grant, prizemoney from a St. George Bank pitch competition at TedX, start-up investment by the Sydney-based company Blue Chilli, and a Business Insider & Gizmodo New Technologies Grant backed by the Glen Grant whisky distillery.
Otlet's founders are now looking to partner with shipping companies, whose investment will allow scientists continued free access to the database in return for the potential business created when they send samples around the world.
They've also added a 'Request' section, so researchers can ask for samples that aren't already listed on the database.
Otlet is named in honour of the Belgian author and visionary Paul Otlet.
Otlet was born in August 1868 and is today recognised as a pioneer of information science and the idea of collecting, organising and sharing all the world's knowledge, almost 100-years before the World Wide Web made such a vision possible.
What Otlet would have made of Otlet is a matter for conjecture, but the way the website makes data freely available to scientists is consistent with the principles Otlet espoused and his enthusiasm for using new technologies to share information.
Speaking just days after the 150th anniversary of Otlet's birth, Ms Green remained mystified why no one had started a service like Otlet before.
"Why didn't someone else do it? Maybe because it's been so much bloody hard work!
"I think we're a little crazy for doing it and especially trying to undertake this while finishing our PhDs.
"It is a lot of work, but we know it's going to be worth it."
---
Video: Madi Green talks about how Otlet was created.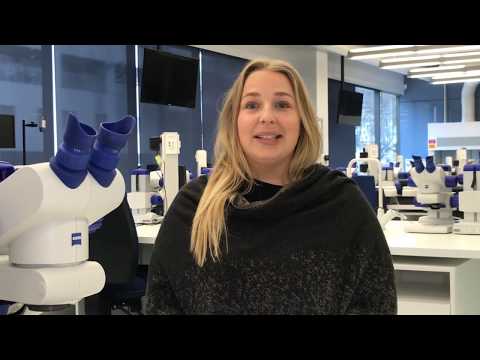 ---