Kelp forests dominate coastal environments in temperate and subpolar latitudes around the world and, much like terrestrial forests, create complex habitats that support diverse and productive food webs. In Australia, kelp forests are the foundation of the Great Southern Reef, a continental-scale temperate reef system that sustains high levels of biodiversity, endemism, and productivity. Kelp forests in Australia support numerous species of conservation and economic importance, including weedy seadragons, grey nurse sharks, rock lobsters, and abalone. The commercial and social benefits of kelp forests are also substantial, especially in coastal communities, and include indirect effects on commercial and recreational fisheries (e.g. effects on prey species and coastal food webs), ecotourism, and other forms of marine recreation (e.g.
scuba diving).
Images credits: above, Craig Sanderson, left, Cayne Layton
Unfortunately, kelp forests in many locations around Australia and in other parts of the world are experiencing habitat loss due to climate change, overgrazing from herbivores, coastal development and pollution. Dense giant kelp (Macrocystis pyrifera) forests were previously a conspicuous and iconic feature of the Tasmanian coast, but loss of ~95% of these giant kelp forests over the past several decades has seen them listed by the Australian Government as an endangered marine community – the first such listing for a marine community in Australia. The decline of giant kelp forests in eastern Tasmania is associated with increased influence of warm and nutrient-poor East Australian Current water.
Image, above, healthy kelp forest (left) and a degraded kelp forest (right) in Tasmania. Photo credits: Adam Obaza (left), Matt Doggett (right)
Active restoration of these degraded and disappearing habitats represents a potential approach for conservation of giant kelp forests. Moreover, the same techniques that underpin restoration may be able to facilitate development of giant kelp permaculture for commercial harvest and integrated multi-trophic aquaculture. Currently, remnant and physiologically healthy individuals of giant kelp occur in eastern Tasmania where there used to be dense forests. Thus, there appear to exist thermally tolerant giant kelp individuals that may provide opportunity for restoration and permaculture.
This project – in collaboration with the Climate Foundation as part of their work to regenerate food security, ecosystem services and mitigate the effects of climate change – aims to establish whether there is the possibility of restoring Tasmania's giant kelp forests by identifying individual giant kelp that may be better adapted to warmer sea temperatures. This pilot project is a necessary 'Phase I' of a potential larger project and aims to assess the potential for future up-scaling of restoration and Marine Permaculture efforts and fill critical knowledge-gaps to provide scientific rigour and risk-management in these efforts.
(Video, below: Professor Craig Johnson talks about the giant kelp restoration project)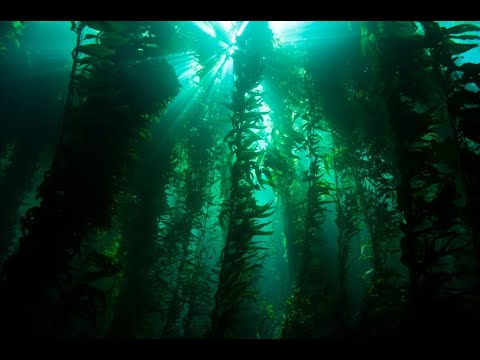 ---
Project updates
February 2020
Our Storm Bay giant kelp are still growing
The giant kelp we outplanted in Storm Bay are continuing to grow, and during this visit we were able to accurately count and measure them without the risk of damaging the kelp in the swelly conditions.
There are still more than 100 juvenile giant kelp growing on each of the three arrays. But now the average size of our juvenile kelp is about 25 cm, while some of the largest individuals are longer than 65 cm!
They all look very healthy, and free from bleaching and fouling (i.e. being overgrown by animals or other algae), which is amazing considering they have been outplanted all summer when water temperatures are at the warmest.
---
January 2020
We have found super kelp!
Early results from the thermal tolerance lab experiment have revealed that several of the families of giant kelp – that we collected from remnant populations across TAS – exhibit well above-average tolerance of warmer water.
Interestingly, the performance of the giant kelp in warmer waters was not related to the site or even the region from TAS where they were collected.
We have now outplanted the five best performing families, along with two crosses (i.e. mixed families), at each of the three restoration sites, with more than 45 m of kelp-seeded twine installed at each site. We are also trialling several other methods of planting our microscopic super kelp at the restoration sites. In the meantime, we are currently re-running the lab tests to validate these exciting results. Our work never stops!
---
December 2019
We're officially kelp farmers
The microscopic juveniles that we outplanted in Storm Bay are developing into recognisable giant kelp and growing well.
There are more than 100 juvenile giant kelp on each of the three arrays, ranging in size from approximately 2–18 cm. However, due to their small size and fragility, we were unable to accurately measure and quantify them on this visit.
The next visit in early February 2020 should allow us to more accurately assess the kelp growing across the three arrays.
---
November 2019
Hardware installed at restoration site, we're ready to outplant our lab-bred giant kelp
One of the most challenging aspects of planting our lab-bred giant kelp onto natural reefs is how we attach it. But we've just finished installing the hardware into the rock at our three restoration sites, where we drilled small holes into the rock to install anchor bolts and secure a grid of thin ropes to lie along the rocky bottom. We're now ready to wrap our kelp twine around these ropes, and as the juvenile kelp get bigger, they will overgrow the rope and naturally attach firmly to the rocky bottom.
How do we drill holes underwater into extremely hard dolerite rock underwater? Using an underwater cordless rotary-hammer drill of course! What an amazing piece of equipment.
Images (clockwise from top left): An awesome day to go for a dive at one of our restoration sites; drilling the hole for the expansion bolt; and installing the expansion bolt to which we attach anchor clips; the rope (black) attached between two anchor points with kelp-seeded twine (white) wrapped around it (with a friendly local looking on).
---
October 2019
The first outplanting in Storm Bay for our marine permaculture/kelp cultivation research
The first of our lab-bred giant kelp have been outplanted into the field, onto experimental arrays and aquaculture infrastructure in Storm Bay. The outplanting of these twines, seeded with microscopic juvenile giant kelp, is the first step in our research looking at cultivation of giant kelp and restorative kelp aquaculture
While the conditions and locations were challenging (open water diving on some impressive underwater infrastructure in a 2m+ swell), we managed to clean and prepare the underwater ropes, around which we wrapped our seeded twine. Now to wait and see how fast it grows! We're hoping to have the aquaculture operations crews inspect it using their ROV in the coming weeks.
Images (clockwise from top left): offshore salmon aquaculture pens (photo by Huon Aquaculture); microscopic juvenile giant kelp; underwater infrastructure, from which the large diameter 'backbone' ropes ran; twine seeded with juvenile giant kelp, ready to be deployed and wrapped around backbone ropes.
---
August 2019
The hunt for super kelp has begun!
We've started the experiment to test the thermal performance and acclimation of our juvenile giant kelp sporophytes: 42 isolated family lines (collected from 6 remnant populations across Tasmania) and 7 crosses being tested across four temperature treatments (yep that's right, almost 200 experimental units!).
We have custom built our experimental testing system. It's a closed system to minimise contamination, but with filtered flow-through water and aeration. Adjustable colour lighting means we can initially have blue lighting to promote gametophyte fertilisation, and then adjust it to a more normal white/yellow colour temperature for testing/grow-out phases
Note: this setup is designed to be a long-term installation. Testing of juvenile sporophytes is expected to occur multiple times each year and be an ongoing part of our restoration and research activities. On that note, we'd love to test giant kelp from other populations (e.g. South Africa, Chile, North America) for comparisons and insights.
---
August 2019
Healthy cultures of giant kelp gametophytes
A delayed update:
For the past few weeks, our giant kelp cultures have been producing abundant quantities of gametophytes. Subsampling and testing of thermal/nutrient performance (i.e. the hunt for super kelp!) can begin.
PLEASE NOTE: Samples from these cultures are now available for scientific purposes via the sample-sharing website Otlet -- https://app.otlet.io/Researcher/PublicSample/List
---
May 2019
Isolation and cultivation from remnant giant kelp patches
After collecting giant kelp from remnant patches/forests in Tasmania we now have >50 isolated cultures from individuals across a wide range of latitudes/temperatures. Once these are producing abundant and healthy gametophytes, testing of thermal/nutrient performance can commence.
Images (left to right, top to bottom): 1, sporophylls (the reproductive part of giant kelp) are collected from numerous sites; 2, sporophylls are transported to the lab for preparation (some have been nibbled by unknown herbivores); 3, sporophylls are trimmed so that only the spore-producing section (the sori) remain, and are then cleaned, and dried overnight in the dark; 4, dried sporophyll sections are then rehydrated and placed under bright lights to stimulate spore release; 5, spore release is allowed to occur over several hours; 6, after which the 'spore soup' is placed in flasks to allow development of gametophyte cultures (red light enables gametophyte development but stops fertilisation and ongoing development into the diploid sporophytes stage).
---
Interested in this project?