Aquaculture Environment Program
Our Aquaculture Environment research delivers the scientific knowledge to support the sustainable management and development of the salmon aquaculture industry in Tasmania, and around the world.
---
We conduct research to understand and manage the ecosystem interactions of salmon aquaculture. We have three main ongoing projects, supported by the Tasmanian Government:
We also have fixed-term projects underway with support from funding partners, including the Fisheries Research Development Corporation and the Cooperative Research Centres program:
---
Discover more about our salmon aquaculture ecosystem interactions work here: research insights. Our team is:
on the trail of salmon waste
monitoring the impacts of salmon farming on our inshore and deep reefs
investigating the drivers of nuisance algae blooms along our coastlines
monitoring and protecting the marine environment from farm nutrient discharge
monitoring the health of Macquarie Harbour
developing and implementing a comprehensive environmental monitoring program in Storm Bay with CSIRO
mapping existing habitats for proposed marine farming zones
modelling to understand the impacts of farm inputs … and more.
---
Listening to the Harbour: our research in Macquarie Harbour
Salmon Environment Program Leader, Associate Professor Jeff Ross, describes the important natural features of Tasmania's Macquarie Harbour, the environmental responses to salmon farming, and the role that science is playing in determining the level of farming that is ecologically sustainable in the harbour into the future.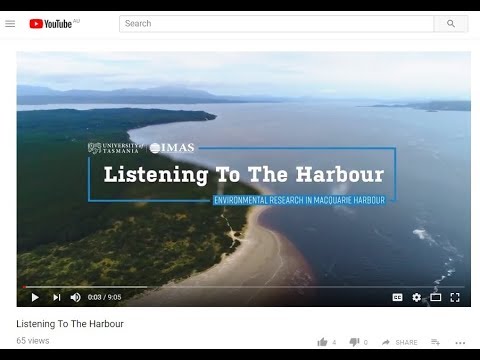 ---
IMAS salmon team takes out top University award
Our IMAS Salmon Environmental Interactions Team took out the prestigious University of Tasmania Medal for Research Excellence in 2019, in recognition of their science on the effects of salmon farming in our coastal zone.
The award honours the outstanding contribution Dr Jeff Ross, Associate Professor Catriona Macleod and their dedicated team have made to ensuring the research that underpins our understanding and monitoring of the environmental interactions of salmon farming is of the highest quality, across the spectrum of innovation and impact, mentoring and early-career researcher development, and community engagement. Read the full story here.
Image (above): Dr Jeff Ross (left) with some of the Salmon Environmental Interaction Team: (L to R) James Hortle, Andrew Pender, Kylie Cahill, Sam Kruimink, Olivia Johnson, Jason Beard, David Moreno, Adam Davey, Dr Scott Hadley and Ben Quigley. Other members of the award-winning team include Associate Professor Catriona MacLeod, Dr Camille White, Dr Karen Alexander, Flora Bush, Myriam Lacharite and Jessica Kube.
---