Aquaculture is the fastest growing animal food-production sector worldwide – and Tasmania is significantly expanding its salmon farming capacity. IMAS is a leader in salmon aquaculture research.
Successfully introduced into Australia in the 1960s, Atlantic Salmon have become one of the country's highest value and volume fisheries products.
When the eggs from those first fish were brought to Tasmania in 1987 scientists nurtured and grew the salmon in small tanks at what are now the IMAS Taroona Research Laboratories.
From those small beginnings, our scientists have been helping to address the many challenges of salmon farming for over 30 years. This has led to innovative science and ongoing monitoring, to provide data that can improve the industry's sustainability while informing government, industry and the community.
Understanding the environmental interaction of salmon farming is one key area of our research at IMAS.
Watch the short video below to discover our Tasmanian Salmon research story and learn more about our research: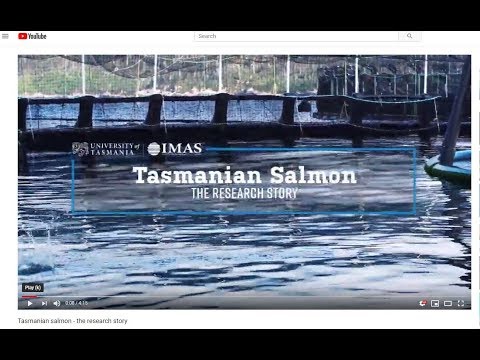 For more information about salmon aquaculture research please contact our Fisheries & Aquaculture Centre Head, Professor Caleb Gardner.
SALMON SNAPSHOT - THEN AND NOW
Early 1980s
The Tasmanian salmon aquaculture industry begins, with a recirculating quarantine hatchery constructed at the Fisheries laboratory in Taroona. Initial research focuses on operational trials of rainbow trout.
1984
Inland Fisheries Commission issues a permit to the Tasmanian Fisheries Development Authority (TFDA) to import live Atlantic salmon Salmo salar ova (fertilized eggs) from a hatchery in NSW.
The ova hatch, and successful quarantine trials follow. This ensures the salmon stock satisfy all fish health requirements for their transfer to sea.
1985
In June 1985, the first transfer of Atlantic salmon to sea occurs at Sykes Cove on Bruny Island.
The Tasmanian Aquaculture and Fisheries Institute (now IMAS) at the University of Tasmania begins work with the State Government's Fisheries Laboratory and other organisations, to develop a knowledge base that will support regulatory decisions on marine aquaculture industry, now and into the future.
Today...
IMAS aquaculture research is acknowledged as world class, and our environmental research has been identified as world's best practice according to international standards. Our research continues to inform aquaculture management strategies globally.
FROM TASMANIA TO THE WORLD
IMAS has been at the centre of developing, implementing and reviewing the aquaculture environmental monitoring programs active today in Tasmania.
Our current research brings together theoretical and empirical studies, basic and applied science, and biological and socioecological research.
Our world-class research capacity in aquaculture is enhanced through key collaborative partnerships, and by developing leading technology.
Through our system understanding and recommendations, we continue to support the ongoing development and sustainable management of the salmon industry in Tasmania.
Along with identifying and addressing emerging issues, IMAS research is responsive to the concerns raised by industry, government and the community.
We acknowledge that marine and coastal ecosystems are a shared resource, so collaborative research remains our focus. Our management recommendations seek to promote multi-use management solutions, and to provide advice that supports sustainable management practices for all stakeholders.
Find out more about our Aquaculture Environment Program research here.
World-class research
IMAS Atlantic salmon research covers four areas:
1. Animal performance
Our animal performance team research wild and farmed animals. For salmon production, this includes integrating physiology, breeding, genetics and development, nutrient requirements, aquafeeds and sustainable ingredients (e.g. alternatives to fishmeal and fish oil), and product quality. The key drivers of this work are to understand climate change effects and ensure sustainable aquaculture.
2. Aquatic animal health, biosecurity and welfare
Our animal health team focuses on issues such as infectious and non-infectious diseases, diagnostics, and biosecurity, toxicology and welfare-specific research. Key areas of research include amoebic gill disease, infectious aquatic bacteria, and vaccine development.
3. Ecosystem effects and interactions
Our ecologists explore aquaculture and environment, including sediments, hydrology, modelling, management and policy, as well as integrated coastal management, climate change, and the ecosystem effects of fishing - find out more about this research here.
4. Global seafood trends
Our researchers look at meta-analysis of datasets and predictions, the effect of climate change on fisheries and aquaculture, and changes in seafood consumption.
Photos: Salmon PhD candidate Waldo Nuez Ortin (top) at the IMAS Experimental Aquaculture Facility (EAF), Taroona - photo courtesy of Peter Mathew; Professor Chris Carter and EAF Manager Polly Hilder (above right) examine an Atlantic salmon.
---
Watch this video for an insight into IMAS's salmon nutrition research with Professor Chris Carter who says it is vital for research to support the future growth and sustainability of the salmon aquaculture industry, in Tasmania and around the world.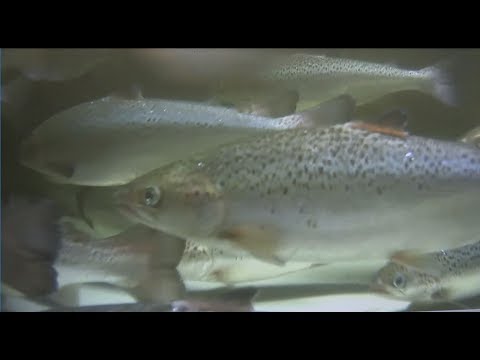 ---
Discover more: