Sustainable development of the Tasmanian salmonid industry is underpinned by management regimes that seek to minimise the impact of the farms on the benthos, and to ensure impacts are not severe, reversible and can be contained.
Since mid-2013 the benthic condition has changed in Macquarie Harbour (MH), with routine benthic monitoring showing an increase in the abundance and distribution of opportunistic polychaetes on the sediment surface in and around marine farming leases. Investigating these observed changes was the subject of a tactical FRDC research project (2014/038) in early 2015 (Ross et al., 2015 ) and has been a focus of FRDC Project 2015/024 .
In late 2016 IMAS reported a significant deterioration in conditions under and around the farms, with a major decline in macrofaunal abundance and species diversity. Video compliance monitoring at the same time highlighted a major increase in the presence of the Beggiatoa mats on the sediment surface in and around a number of the marine farming leases. As a consequence, multiple cage sites across the harbour are now subject to mandatory fallowing.
This major deterioration in sediment conditions coincides with very low dissolved oxygen (DO) levels in the bottom and mid waters of the harbour. Although DO levels are naturally low in Macquarie Harbour, a decline in DO levels in the bottom waters of the Harbour was confirmed in late 2013, and DO levels reached the lowest levels on record in late 2016.
---
In this video, the project's Principal Investigator, Dr Jeff Ross, describes the important natural features of Macquarie Harbour, the environmental responses to salmon farming, and the role that science is playing in determining the level of farming that is ecologically sustainable in the harbour into the future.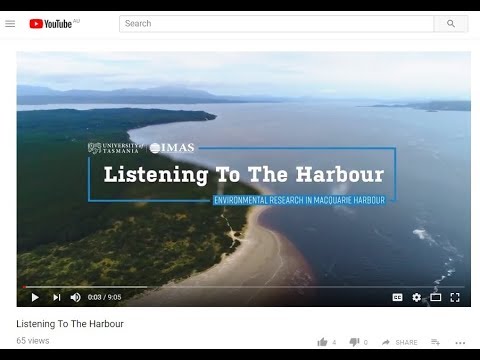 ---
It is clear that oxygen levels have been, and will be, a major driver of the sediment response over the coming months and years. Using state of the art technology the project has deployed strings of oxygen sensors throughout the harbour; the data is transmitted underwater in 'real time' using acoustics and then delivered directly to scientists, regulators and farm managers via satellite (the image below shows the online oxygen data dashboard).
Access to this level of information on oxygen levels will be critical to our efforts to understand changes in the harbour ecology and effectiveness of fallowing and remediation strategies. Importantly, this information will also be used to further develop CSIRO's hydrodynamic and oxygen transport model of the harbour used to understand the system drivers of oxygen drawdown and recharge.
The future of salmon farming in Macquarie Harbour depends on its long term environmental sustainability. This project will help inform the likely effectiveness and duration of any given fallowing or remediation strategy, and as such is essential for both operational management of farming activities and the long-term management of the harbour.
The project's progress reports on environmental conditions in Macquarie Harbour are available here, under the Salmon heading.
Interested in this project?