Revealing underwater life in the world's southern-most coral reefs
A Black Rockcod investigates the basket of fishy-snacks attached to a baited remote underwater video (BRUV) system. Lord Howe moray eels slide out from their coral hiding spots, swaying in the ocean currents and edging closer to check out what's on offer. They're joined by curious fish that live and feed among the coral and along the seafloor. A tiger shark and a school of Galapagos sharks slowly cruise past, and a stingray glides in to see what the fuss is about.
It is 2020, and our IMAS researchers are capturing the underwater action of the deeper sunlit 'mesophotic' ecosystems of the Elizabeth and Middleton Reefs in Lord Howe Marine Park.
While the shallow lagoons and inner shelf waters of these reefs have already been surveyed by divers, this is the first time the mesophotic ecosystems of both reefs have been studied. Researchers are keen to explore the gently sloping shelf platform of each reef, with their complex seafloors that provide habitat for a diverse range of tropical, sub-tropical and temperate marine species.
---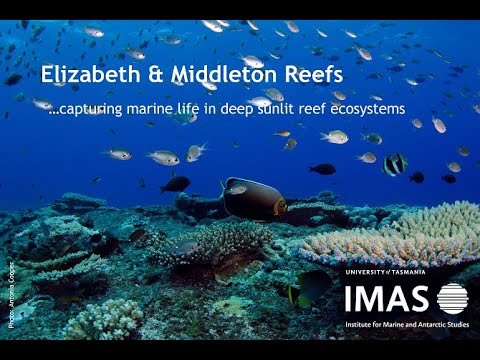 Dive in to catch cod, sharks and other fascinating creatures captured in our BRUV footage
---
ALL ABOARD FOR TV BLUEFIN'S BIGGEST ADVENTURE
IMAS researchers travelled to the world's southern-most coral reefs aboard the UTAS Australian Maritime College vessel, TV Bluefin, as partners in a major Geoscience Australia-led NESP Marine Biodiversity Hub expedition to map and sample the two isolated seamounts.
"For this three-week survey, TV Bluefin departed on its longest-ever voyage, from Beauty Point in Tasmania, via Newcastle, to arrive at the Lord Howe Marine Park about 600 kilometres off Australia's east coast," IMAS Associate Professor Neville Barrett said.
Elizabeth and Middleton Reef systems sit at the interface between warm tropical waters pushed south by the East Australian Current, and cooler temperate waters. In this unique location, both tropical and warm temperate fish species have found a haven to live and thrive.
"The coral cover is extensive in shallow waters and, while it's recently experienced significant bleaching, we don't know whether deeper corals have been bleached in the past – or if these deeper and potentially cooler waters offer a refuge for many coral species and their associated fish communities," Assoc Prof Barrett said.
"This research and the baseline data it provided is critical to improving this understanding. It has also established an important snapshot of the current conditions, against which scientists can monitor future changes in response to warming waters and to protection efforts within this large offshore Marine Park."
SURVEYING AUSTRALIA'S SOUTHERN-MOST CORAL REEFS
While Geoscience Australia were mapping the deeper shelf environments in 3D spatial resolution using multibeam sonar, IMAS researchers deployed an extensive array of BRUV systems over the mapped features, to video-map the fish assemblages.
"We also deployed the AUV Nimbus, an IMOS autonomous underwater vehicle, to photographically survey the seabed features, including coral cover and condition," Assoc Prof Barrett said.
"Meanwhile, researchers from NSW Department of Primary Industries were doing matching BRUV surveys within the inner lagoons formed by the fringing reef systems."
Researchers found an abundance of fish across the lagoon, inner shelf and deeper sunlit shelf habitats, and recorded more than 6000 individual fish during the survey.
"The reefs are a hotspot for Galapagos sharks and Black Rockcod, a threatened species that is now uncommon in coastal Australian waters, but is abundant and well-protected in this remote marine park," Assoc Prof Barrett said.
"It's also home to Tiger Sharks who loved attacking our video baits, and to a wide range of tropical fish species.
"Our biologists really enjoyed analysing the video and coral imagery during COVID lockdown last year, adding variety to the species we normally see in our Tasmanian regional studies," he said.
The 2020 survey will contribute to managing Lord Howe Marine Park and the 10-year management plan for the Temperate East Marine Parks Network.
Survey partners included Geoscience Australia, NESP Marine Biodiversity Hub, University of Tasmania's Institute for Marine and Antarctic Studies (IMAS) and Australian Maritime College (AMC), Integrated Marine Observing System (IMOS), University of Sydney, NSW DPI Fisheries, Australian Ocean Data Network (AODN), and Parks Australia which manages the Australian Marine Parks network. Read the survey report
This project was supported with funding from the Australian Government's National Environmental Science Program Marine Biodiversity Hub.
---
Click on the video above or here on IMAS YouTube to see cod, sharks and other fascinating marine creatures that live and feed on the Elizabeth and Middleton Reefs
Take a fly-through tour of Geoscience Australia's seabed bathymetry and biodiversity
Image I: Galapagos sharks Carcharhinus galapagensis slowly cruise past our IMAS baited remote underwater video (BRUV)
Image II: Seabed features, including coral cover and condition, were captured by the AUV Nimbus and AUV Sirius
Image III: Deploying the IMOS autonomous underwater vehicle, AUV Sirius, one of two AUVs used to photographically survey the seabed features, including coral cover and condition
Image IV: Lord Howe moray eels Gymnothorax annasona
Published 6 October 2021